Sharing with you some Friday Faves! Happy Weekend Everyone!
My dad gave all of us
this
book for Christmas. Its one of those books that is life-changing. It is easy to read and so convicting!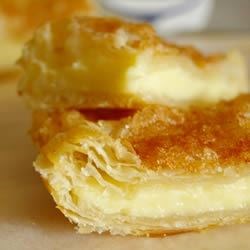 These
Cream Cheese Squares
are so good and easy! Adding a little bit of cinnamon and sugar to the top would make these even better for my sugar-lovin' boys!
Twirly Whirly Pizza Roll-Ups. This is one of those recipes that you might want to wait until your husband is out of town! Or if your lucky like me and have a husband who LOVES pizza, then this kid-friendly recipe is for you. Look for the recipe
here
on one of my favorite blogs.
Looking for another Decorating Blog to read? Hop on over to
Young House Love!
I really love how they take older houses and remodel them. View their first makeover-home
here
!
Myron and I love to have Mexican on most Saturday Nights. Its just a great time to have chips/dips, quesadillas, and try out a new mexican recipe while watching football the boys play!

This dip, "Paula Deen's Touchdown Taco Dip",

is so awesome! My aunt first made it and we love it! ---its super easy,too! (We do NOt add all of the extra ingredients in the pic to our dip--so don't let that scare you off!)
Cheese (enough to cover the top)
1 4oz sour cream (optional)
Little bit of Salsa (optional)
Whatever else you want to add
Spray a casserole dish with Pam

Mix cream cheese and taco seasoning

Add sour cream (optional)

Pour this mixture into bottom of pan

cook in oven for 20 minutes or until everything is melted.

did I miss something, Aunt Kristi?
Awesome recipe- easy, cheap and so good!
One of my new Mexican Recipes (that I will share soon) is from my newly-wed sis, Jen. She has been cooking up a storm and lets me know when she finds a good recipe. This one is a keeper.
Doesn't it look good! Its not your typical "mexican" taste--so comforting and good!!
Look for it soon---
Easy Creamy Cheesy Chicken enChiladas

. (I've made it twice in 2 weeks, it was that good and my boys loved it!)